Our Global Energy Trends 2021 publication offers an in-depth analysis of consolidated 2020 energy and emissions statistics with 2021 estimates. What impact did Covid-19 have on energy and CO2 emissions and which structural changes are forecast, caused or exacerbated by the pandemic? Which consequences will this have on 2030 and 2050 energy and climate targets?
Daily Energy News
Malaysia aims to reach 31% of renewables in its installed capacity by 2025 and 40% by 2035. The installed renewable capacity (including hydropower) is expected to more than double, from nearly 8 GW in 2020 (around 20% of the installed capacity) to 18 GW by 2035.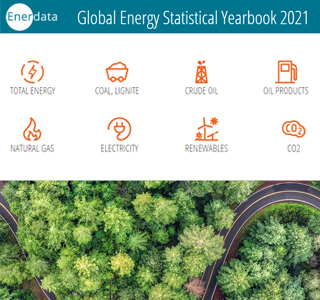 Enerdata publishes now its 2020 Yearbook – a free online application providing up-to-date energy statistics, visual maps and graphs on a user-friendly online platform. Get unlimited access to premium annual data on supply, demand and trade for oil, gas, coal and electricity markets up to 2019. Covering 40 countries through a unique multi-energy approach, Enerdata's Yearbook is a unique introduction to a full suite of interactive information services dedicated to the energy industry.
Energy Research & Data Services
Access Our Services
Request a free trial of our services